LAS CRUCES, N.M. – Sir Richard Branson is one of a handful of billionaires in the world, and he plans on joining an even more exclusive club Sunday morning.
Branson, the 70-year-old founder of Virgin Group, will become one of roughly 600 people who've left the Earth's atmosphere when he flies to the edge of space onboard a Virgin Galactic aircraft.
"I've wanted to go to space ever since I was a young boy and watched the moon landings from our black and white television set. When commercial spaceflights did not look likely for my generation, I registered the name Virgin Galactic with the hope of creating a company that could make it happen," Branson wrote in a blog post on July 6.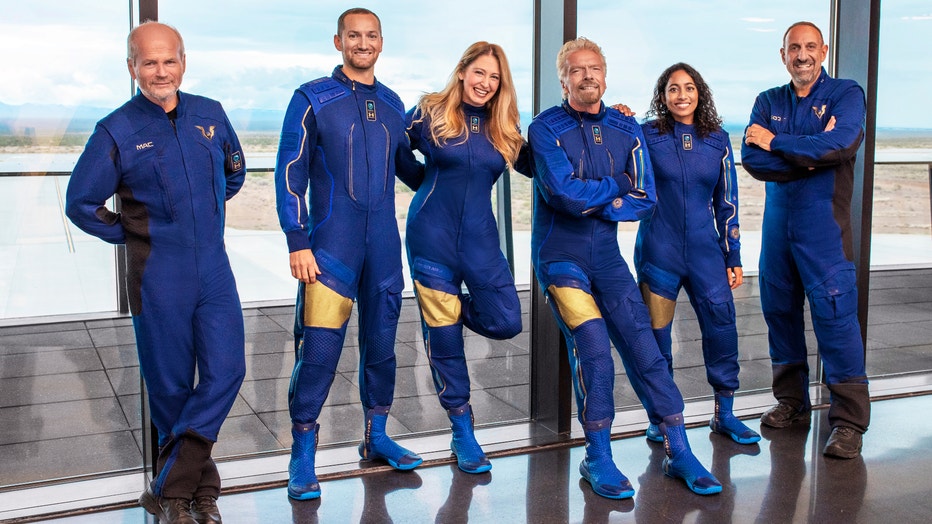 (L — R) Dave Mackay, chief pilot; Colin Bennett, lead operations engineer; Beth Moses, chief astronaut instructor;Richard Branson, founder Virgin Galactic; Sirisha Bandla, vice president of government affairs and research operations; Michael Masucci,
The launch, which is scheduled for 9 a.m. ET and can be viewed on LiveNOW from FOX, is Virgin Galactic's first flight with a full-scale crew.
David Mackay and Michael Massucci will pilot Unity, the aircraft named by the late Stephen Hawking. Former NASA engineer Beth Moses will be on board, as will first-time space travelers Colin Bennett and Sirisha Bandla,
Unity will take off from New Mexico while attached to a specially-designed double aircraft named after Branson's mother, Eve. Former NASA astronaut C.J. Sturckow and Kelly Latimer will be piloting Eve.
Once Eve reaches 50,000 feet, Unity will be released — briefly falling before its rocket ignites and propels the crew to space.
RELATED: Virgin Galactic inks NASA deal for commercial space flights
Unity's motor will shut off once it reaches space, allowing the passengers to experience several minutes of weightlessness and taking in the one-of-a-kind view only space travelers get to enjoy.
"I'll be looking back at our beautiful Earth and taking it all in and realize that only 500 other people have done this," Brunson told the Associated Press.
After a few minutes, the passengers will strap themselves back into their seats as the pilots prepare to guide the aircraft back to the surface.
Unity will glide back to Earth similar to the way NASA's space shuttles did upon re-entry.
Branson will become the first billionaire in space, beating Amazon's Jeff Bezos by nine days. Bezos has a seat on the Blue Origin launch scheduled for July 20, which is the 51st anniversary of the Apollo 11 mission that put a man on the moon.
RELATED: Branson, Bezos, Musk give space ETFs liftoff
Elon Musk, CEO of Tesla, has dabbled in space travel, though not personally. His company SpaceX is partnering with NASA for launches. And Musk has even expressed desires to put mankind on Mars.
Virgin Galactic has plans for two more test flights this summer and fall. Eventually, paying customers will be welcomed onboard.
Ticket reservations are currently closed, but the company already has 600 confirmed ticket holders waiting to launch next year.
The initial tickets sold for $250,000.
This story was reported from Atlanta.


This Article firstly Publish on www.foxla.com