Welcome to Thomas Insights — every day, we publish the latest news and analysis to keep our readers up to date on what's happening in industry. Sign up here to get the day's top stories delivered straight to your inbox.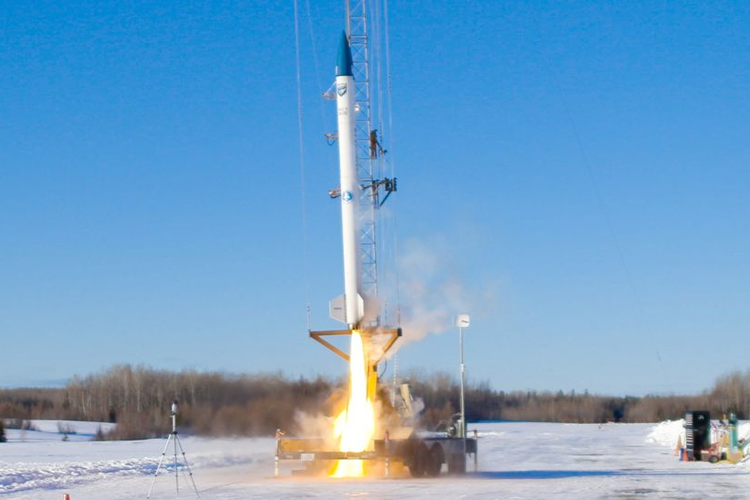 The world's first rocket powered by biofuel has successfully flown 4,000 feet into the air before parachuting back to Earth, with the whole operation lasting one-and-a-half minutes.
After two false starts due to bad weather and a pressure issue with an oxidizer valve, Stardust 1 launched in freezing conditions from a snow-covered former military base in Maine on January 31. bluShift Aerospace's rocket is only 20 feet tall, weighs 550 lbs, and carried three small payloads.
Uber To Space
bluShift's founder Sascha Deri told BBC that Stardust's relative cheapness will make space accessible to organizations who would otherwise have difficulty getting small packages to space as secondary payloads with big aerospace players.  
"Right now there are freight trains to space like SpaceX and ULA – and there are buses to space, like medium-sized rockets," Deri said. "They're taking thousands of kilograms to space. But there's no space launch service allowing one or two payloads to go to space … we want to be the Uber service to space."
blueShift aims to build larger rockets that will carry small satellites (such as CubeSats) into polar orbits from Maine. The global small-satellite launch services market is expected to grow to $24.9 billion by 2029.
Secret Biofuel
Stardust 1 has a unique solid and liquid propellant motor called MAREVL (Modular Adaptable Rocket Engine for Vehicle Launch). The motor is powered by a bio-derived fuel that costs less per kilogram than traditional rocket fuel, is completely non-toxic and carbon neutral. The fuel also offers safety advantages during handling compared with traditional propellants.
But what is it made from? Deri won't reveal the biofuel formula. The only hint is that it "can be cheaply sourced from farms across America." Deri invented the biofuel concept on his brother's farm in Maine and spent six years with his team refining the formula. 
Rocket Emissions Set To Soar
A study into rocket emissions by Martin N. Ross and Darin W. Toohey found that rocket engines emit water vapor, carbon dioxide, and hydrochloric acid, along with submicrometer-sized black carbon and aluminum oxide particles. Every SpaceX Falcon 9 launch, for example, burns 29,600 gallons of highly refined kerosene which equates to the release of 336,552 kg of CO2 per launch.
While blueShift has proven that biofuel rockets are commercially viable for tiny payloads, it's extremely unlikely that a super-heavy spacecraft the size of SpaceX's Starship or NASA's Space Launch System will ever be able to get off the ground by burning vegetable oils or algae.
Big aerospace players need to focus on offsetting in other ways. SpaceX, for example, has done wonders for sustainability with its ground-breaking advances with reusable rockets. It could also be argued that Elon Musk more than makes up for rocket emissions with the success of Tesla and its mission to make ICE vehicles a thing of the past.
Looking Beyond Rockets
Perhaps it is inevitable that the enormous forces needed to lift a super-heavy rocket from Earth to Low-Earth orbit (LEO) space travel will never be sustainable, unless we find a way to get to space without the tyranny of the rocket equation.
Out-of-the-box ideas for non-rocket space launches include skyhooks, space elevators, rockoons, air-launch-to-orbit, and rocket-sled launch assists.
But most of those ideas belong—at present—to the realm of science fiction. In the meantime, companies that wish to launch small payloads into orbit will soon have the option to do so in a carbon-neutral manner.
Image Credit: blueShift Aerospace
More from Industry Trends


This Article firstly Publish on www.thomasnet.com