The US Air Force (USAF) has named "Rocket Cargo" as its fourth "Vanguard" programme, meaning the concept is a top science and technology development priority for the service.
The Air Force Research Laboratory (AFRL) will advance the technology, studying the viability of using large commercial rockets to deliver US Department of Defense cargo anywhere in the world – in 90min or less, it says on 4 June. Recent advancements in large, reusable commercial rockets have made the concept seem feasible, the lab says.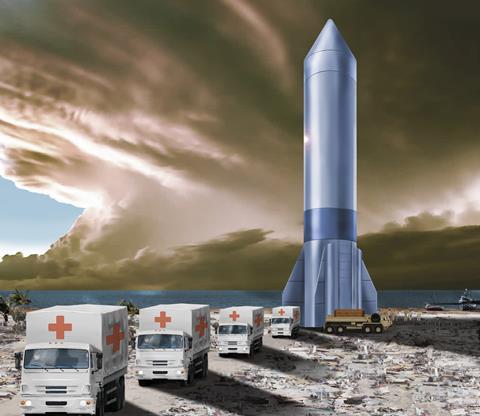 It wants to piggyback on commercial rocket cargo efforts via "service leases", but declines to name potential commercial partners. However, SpaceX offers reusable rockets that might be retrofit candidates. Blue Origin is also developing reusable rockets.
The AFRL aims to research and develop unique technology needed for military rocket cargo missions.
"This includes the ability to land a rocket on a wide range of non-traditional materials and surfaces, including at remote sites," the laboratory says. "In addition, AFRL scientists and engineers will research the ability to safely land a rocket near personnel and structures, engineer a rocket cargo bay and logistics for rapid loading and unloading, and air drop cargo from the rocket after re-entry in order to service locations where a rocket or aircraft cannot possibly land."
Delivering cargo via rocket is not a new idea, says Greg Spanjers, AFRL Rocket Cargo programme manager. In the past, rockets' high cost and small payloads have made the concept impractical.
But development of large, reusable commercial rockets that return to, and land on, Earth has made the concept worth considering, Spanjers says.
In particular, SpaceX has brought down the cost of space launches by using reusable rockets. Most recently, the company test launched its Starship rocket to 32,800ft in altitude before re-landing the spacecraft on Earth. That rocket can carry a 100,000kg (220,000lb) payload to Earth orbit, SpaceX says.
AFRL seeks a rocket capable of carrying a 100,000kg payload – a bit more than Boeing C-17 strategic transports, which can carry 77,500kg payloads, Spanjers says.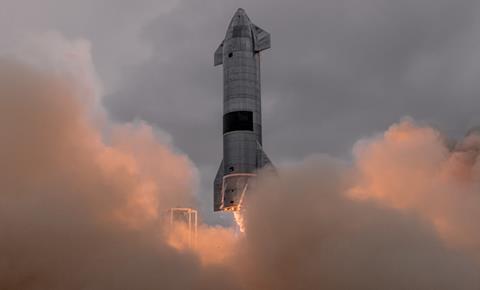 "Rapid logistics underpins our ability to project power," says General Arnold Bunch, USAF Materiel Command commander. "That is the fundamental motivation for initiating the Rocket Cargo programme. We see its initial applications in swiftly restoring operational capability for forces forward in austere environments as well as dramatically reducing the time required to deliver crucial humanitarian assistance and disaster relief."
The relatively new US Space Force is leading the Rocket Cargo effort. The Space and Missile Systems Center will serve as the programme executive officer.
USAF Vanguard initiatives are efforts aimed at developing advanced technologies by 2030 to gain advantage over near-peer adversaries, such as China and Russia. The three other Vanguard programmes include Skyborg, an autonomous flight and mission control system for low-cost, "attritable" unmanned air vehicles; NTS-3, an experimental satellite navigation system that could be a GPS alternative; and Golden Horde, an autonomous networked weapon system.


This Article firstly Publish on www.flightglobal.com