York Minster has revealed its plans for a new cafe and public open space on the site of the former prep school which closed last year as a result of the pandemic.
The plans which the Minster says put "sustainability, biodiversity and well-being" at the heart of the development will see the Grade II listed building which is reportedly in need of major repairs.
The plans show a sympathetic renovation of the Deangate building, which will include the cleaning and repair of the stonework to reveal previously hidden architectural features.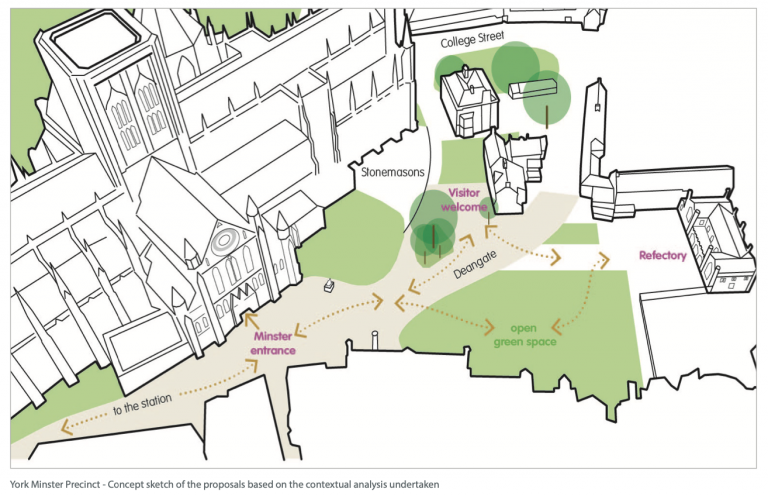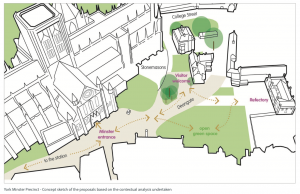 Alongside this, the plans will see the landscaping remodelled to link the new refectory and public space with "both physically and visually" to the Minster's South Transept and Quire, with the aim of creating a "warm welcome" for the 700,000+ people who visit the Minster from around the world each year.
The plans say the landscaping will also "provide interest for families and integrate informal opportunities for learning and education, linked back to the site's former uses, part of which was a kitchen garden for the medieval deanery.
The project is part of the York Minster Neighbourhood Plan, that set out to consider how the the Minster Precinct would need to evolve to meet the changing needs of its community and visitors up to 2035. This led to a masterplan being started in 2018, before being updated earlier this year to include the school site which until 2020 and a fall in income due to Covid-19 had been run by the Chapter of York Minster, which invested £750,000 a year into it.
The Masterplan was submitted to City of York Council in April 2021, and once adopted it will form part of the city's planning policy.
The Dean of York, the Right Revd Dr Jonathan Frost said: "The realisation of this first set of project proposals is the result of three years of collaborative community effort and a strong, shared sense of realism about the solutions that will be needed to make the York Minster Precinct viable and sustainable to 2035 and well beyond that date.
"The proposals for this refectory and the public space adjacent to it, respect the Minster and its history and its purpose as a place of worship and welcome. The plans are highly creative and innovative and aim to breathe new life into the building and open spaces in a way that is inclusive, sustainable, economically viable and, which meets the needs of York residents and our visitors."
The plans for the site which will also include the creation of disabled access and the installation of solar panels are now out for public consultation until 13 June and are expected to be submitted for planning approval in summer 2021.
The Minster stated that once planning permissions are secured it "will look to partner with a commercial operator to run the refectory on a rental basis", with a view to welcoming visitors mid-2022.


This Article firstly Publish on www.thebusinessdesk.com